All you need to know about GoLearn and how to make money from it
About The Founder
Olubori Kehinde Paul, popular known as THE WEALTH MENTOR, is a Forexguru and Coach,who has offered Forex Trading Coachingand Mentoring to over 500 people in and outside the shores of Africa, and seeing over 70% of his Mentees earning thousands of dollars from FOREX Trading Market.This marked the beginning of breakthrough for him in FOREX Trading, coupled passion for developing himself, he invested close to $5,000 dollarspaying for courses, trading strategies, learning from different experts and now at the stage where he is uncovering innovative trading strategies fortrading profitably; what he calls his TRADE SECRETSwhich have not only proven to be profitable but also are failure-proof.He has a number of testimoniesfrom his Studentsand Menteeswho have applied his TRADE SECRETS from which they profited wonderfully with some of themmakingthousandsofdollars.He lives by a Mantra which says,"Success should not be measured by the amount of Money in the bank account but the number of people lives positive touched by you".
This is why he his currently on a lofty mission to replicate his success many times over by raising 10,000 Millionairesfrom around the world annually.With this will be sharing his well reserved, proven and sustainable TRADE SECRETS that have seen him rise above loss from FOREX and overcome his naivety ofbeing a rookie a trader to becoming a MILLIONAIREand helping to create many more.
What Is Go-Learn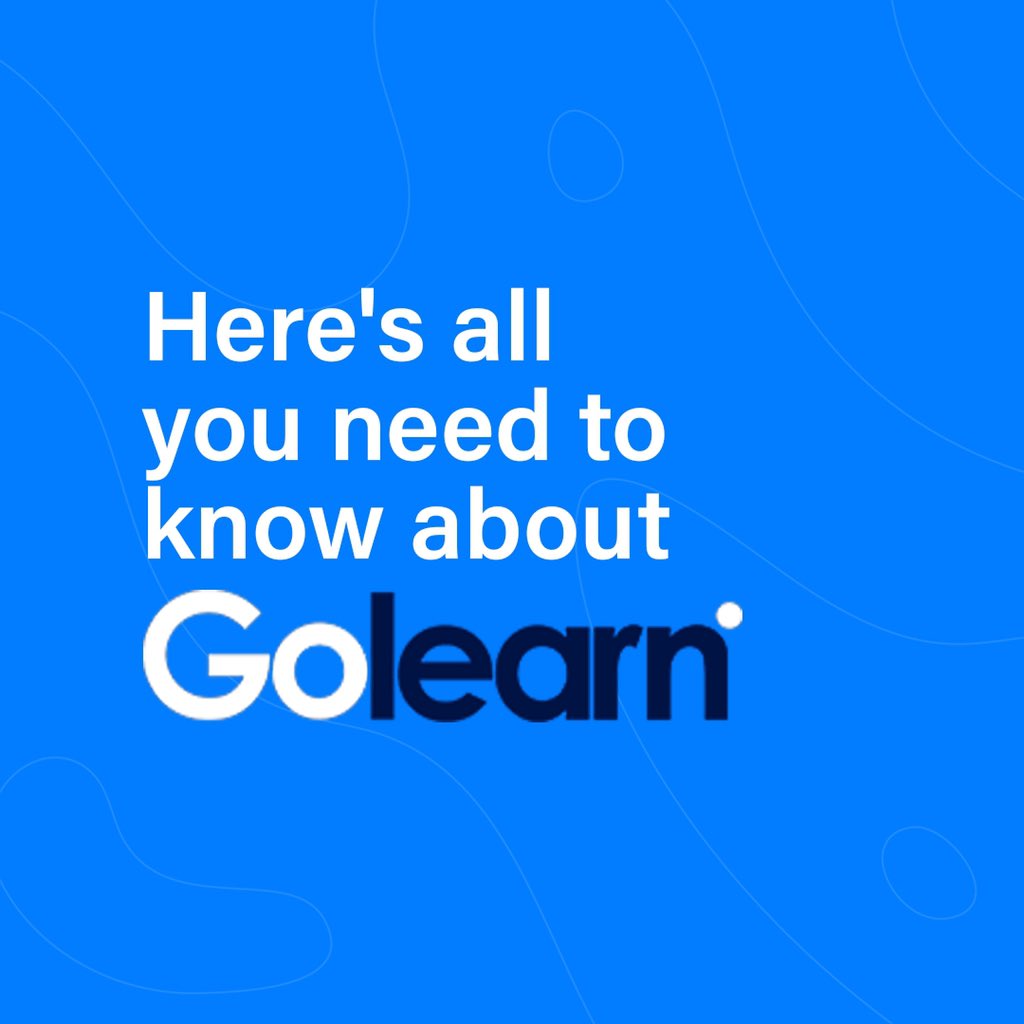 GO LEARN is an Academy put in place to teach Digital skills to interested individuals at an affordable price.Go-LEARNas a poverty eliminator in 2021. In Go-learn, all we do is LEARN toEARN.As the name implies GOLEARN, it is anavenue were you and I can learn various skills and not ordinary skills but Income skills. That is skills that will fetchyou moneyand makingyoufinanciallyindependent.As you can see,this isnot a regular Platform weretheyasked formoney toinvest and at the end of a periodyou collectyou money with interestandtheyend up being a scam. But inGo-learn we offer valuesthat can serve you allyour days on earth and creating a sourceof income for you.Most of us see young individualsnowadaysmaking money from their various skills e.g crypto trading, forextrading ,makeup , video editingand lots more.The QUESTIONnow is whydon'tyou put yourself in that position of making moneyyourself? rather than giving your money out to someone who claim is trustedto invest you moneyin whatsoever he claimhedoes and at the end of the day you loss your funds. Think about thishow much you haveinvested and lostto the hands of all this various schemesout there.
Why Not Invest In Your Yourself?
WHY DON'TYOU INVEST IN YOUR SELF TODAY,AND DO YOU KNOW THAT EVEN IF YOU LOST EVERYTHING, THE KNOWLEDGE YOU HAVE ,CAN NOT BE TAKEN AWAY FROM YOU. That is just a simple fact. INVEST IN YOUR SELF TODAY AND YOU WILL NEVER REGRET YOU DID SO.With the help of Go-learn they will teach you and not only teach,you will be mentor on the skills you acquire.If you know a particular skill, not involving yourself in this program Is actually a bad idea,if I am to say.You can also take that particular skill and get yourselfmore expose and experience.Remember expectsare going to be teaching and exposing you to the world of your various skills…..I know you don't want to miss this Golden opportunity.
10 skills that are being offered by Go-LEARN
THE FOLLOWING SKILLS ARE GOING TO BE TAKING BY EXPECTSIN THOSE FIELD
4. Learn Graphics Designing
7. Learn Decentralized Finance(DEFI)
8. Learn Digital Marketing
How to make money from Go-Learn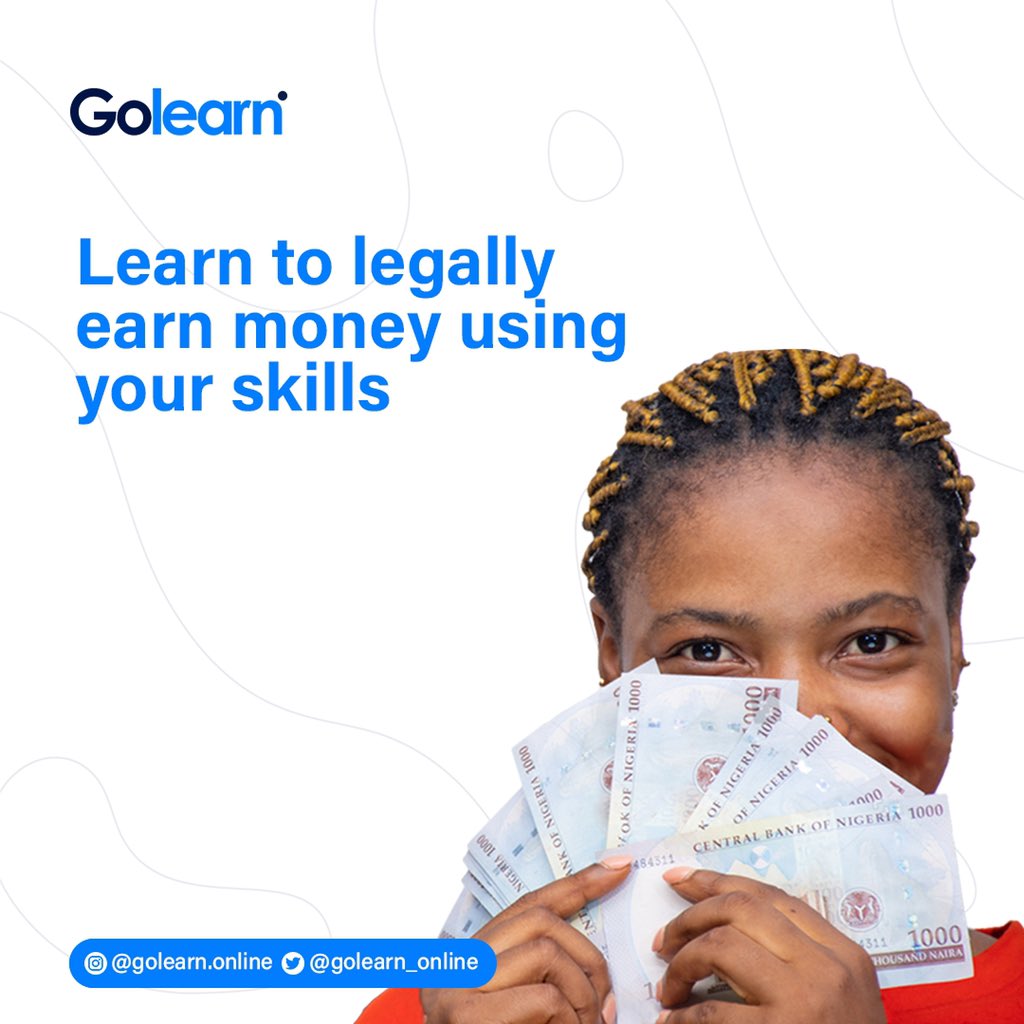 GO-LEARN AFFILIATE The founder of Go-Learn makesis possible for you to invite yourfamily, friendsand loved ones to theprogram and earn alongsidewith yourlearning activities going on, withsuper amazing commission.When he or she register ,you get 50% of the registration fee.Let go for a little calculation.DO YOU KNOW WHEN YOU RECOMMEND GO-LEARN TO ANY OF YOUR LOVEDONES YOU GET A SUM OF 10,000 NAIRA YOU RECOMMENDING GO-LEARN TO 10 OF YOU FRIENDS, MEANING YOU WOULD HAVE EARN 100,000 NAIRAGO-LEARN IS AN OPPORTUNITY FOR EVERYONE TO LEARN AND START MAKING MONEY EVEN AS YOU ARE LEARNING YOU DESIRE SKILLS.
F.A.Q.S
CAN I PAY FOR MORE THAN ONE SKILL?
Yes and yes, you can pay for more than one skill. Each skill costs 20,000nairaand there's no limit to the number of skills you can acquire.
IS REFERRINGCOMPULSORY?
Go-LEARN is not a Ponzi scheme. Referringisn't compulsory. Don't take it as referring, take it as recommendingsomeone to come and learn something the person can use to feed him/herself for a lifetime. Your friends will appreciate it if you introduce them and Go-Learn pays 10k per person.
CAN I REFER PEOPLE TO GO-LEARN WITHOUT BEING A MEMBER?
No. In order to begin to refer, you must be registered and you must have a recommendationlink. Well, in caseyou don't have much money to pay for the skill, we can partner upwith ME. You can refer your friends to ME. I'll then give you 8,000 nairaper each friend you refer.If you refer 3friends, you'll then get 3x 8,000=24,000nairaThis fundwillaccommodate your registration…soas to learn your desire income skill.
IS GO-LEARN TRUSTED?
Yes. it's 100% trusted and the team behind this is trusted too.Feel free to do yourown Research about the Founderhimselfand theteam behind it….It's not a MLM , Ponzi nor Investment scheme…
They Give Value that will last you for your life time.And you can acess them anytime any day via your various accounts on GoLearn.
HOW DO I GET STARTED?
Prepare your 20,000naira
SCAN THE QR CODE TO CONTACT FOR YOUR REGISTRATION VIA WHATSAPP OR CLICK ON THE LINK BELOW